To enable ecommerce you'll need to add pricing to your products.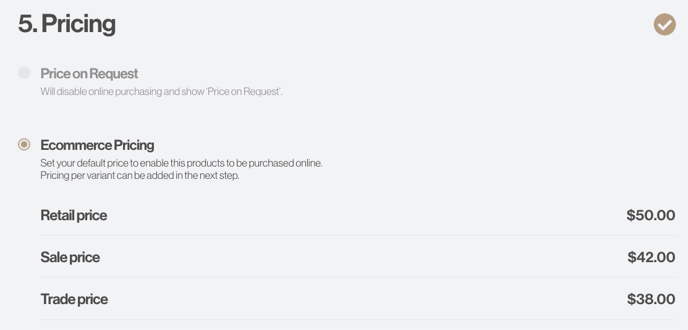 By default all products are set to Price on Request which disables online purchases and allows customers to make enquiries on products directly.
All pricing that is set within the Pricing section will be the default price for any variants created. Variants are explained more in the section adding product variants.
Retail pricing
Retail is the price that will show to all regular users. Regular users on the platform are those without an ArchiPro professional profile. Professional profiles have access to trade pricing, as described below.
Sale pricing
Sale pricing will show if the product has been switched to 'On Sale'. The user viewing the product page will see both the original 'Retail' price as crossed out and replaced with the new 'Sale' price.
To turn a sale price on, toggle the 'On Sale' which can be found in your product variants section.
Trade pricing
Trade is the pricing you offer to customers who work within the design, building and construction industry. If you have multiple tiers to your trade pricing, this functionality may not work for you. Alternatively, you can decide to set one price for all customers on ArchiPro with a professional trade account. For trade pricing that is higher than the sale price, the sale price will be the shown value.