Learn how to add and edit products using the new products editor interface.
In this article:
Product details
Product information
Photos/videos
Dimension diagram
Pricing
Variants
Attributes
Downloads
SEO & Search
Link professionals
Submit your product for approval
Create a new product
Head to the Content tab within your menu navigation. Here you will see all of your products with the corresponding information including: variants; stock; price; completion score; marketplace status; and live status. Here you can either edit a product by clicking on an existing one or upload a new product.
To upload a product, click Add a New Product on the right-hand side of the page.

Once you have clicked Add a New Product you will see the image below. There are 10 sections that you can fill out, each can be expanded by a click. On the right-hand side there is a helpful description that explains each section you are filling out.
*Note: all fields with (*) are required, all fields without (*) are optional.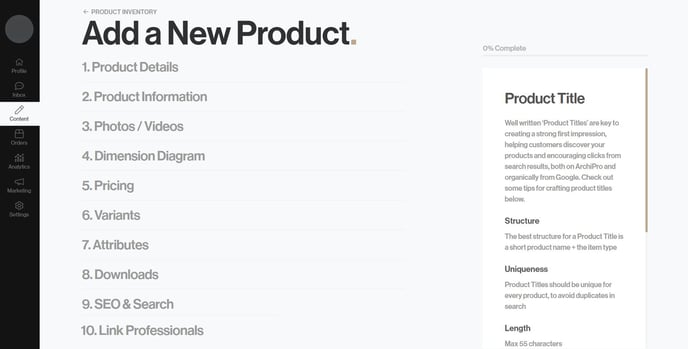 1. Product details
Here you can add all of the main details for your product, including the name, category, year, warranty, and lead time (if applicable for Marketplace).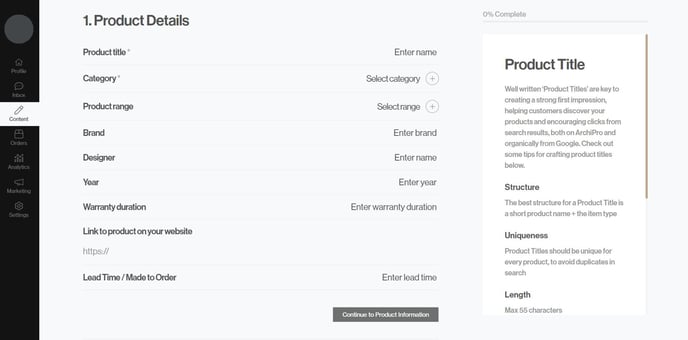 2. Product information
Here you can add your product description, specifications, measurements, and any other information you deem relevant. Add more tabs by clicking Add new section; enter a new title and fill in the description.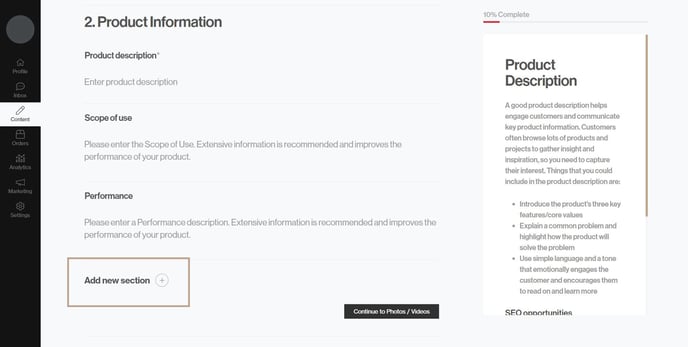 3. Photos/videos
Upload photos and videos that showcase your product. These may be in situ or clear-cut and need to be at least 1160 pixels wide x 668 pixels high (72 - 300 dpi) in JPG format.
The first photo will be the product thumbnail and will appear first for the user. Drag and drop the best photo to the front so users see it first.

4. Dimension diagram
Add any images that portray the dimensions of your product.
5. Pricing
Select the pricing option for your product, this may be Price on Request or Ecommerce Pricing (if applicable for Marketplace). Under Ecommerce Pricing add the price of your product, its sale price (optional) and trade price. Alternatively, if you have various versions of your product, continue to the Variants section below.

6. Variants
This section allows you to add all the variants for your product along with their individual pricing and shipping options. To add shipping options to each of your variants, read the Applying shipping rates to your products article.

7. Attributes
If your product is sitting in a category that has Attributes, they can be added in this section. If they are not included in the options, you can Request an option that is not listed. This is a great way to tell customers what features your product has.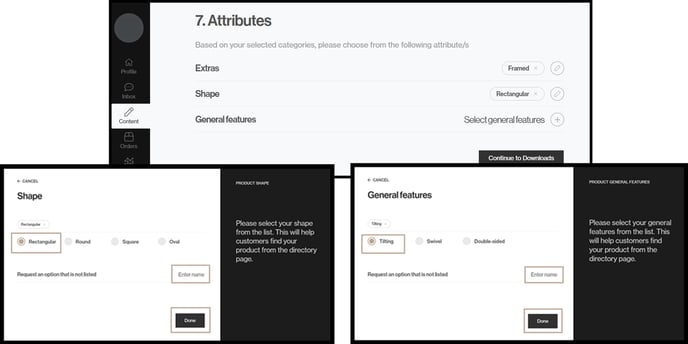 8. Downloads
Use this section to upload a file or link to an external file so that customers can learn further details about the product and save the files for later use.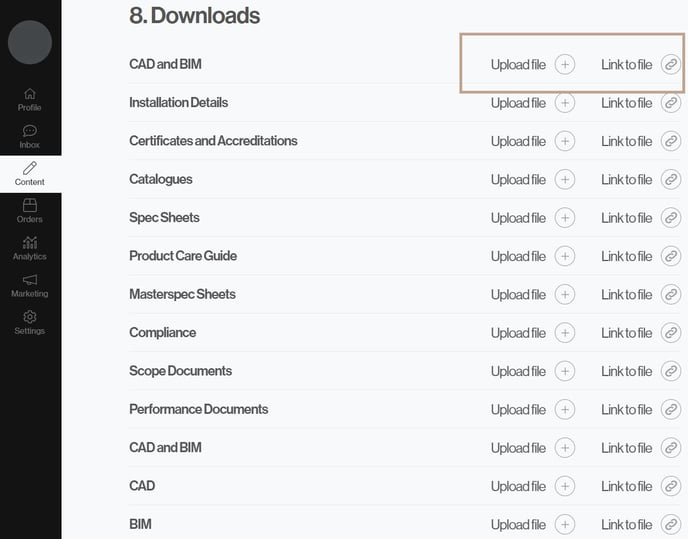 9. SEO & Search
The Search Engine Optimisation (SEO) & Search section is extremely useful to help your product rank higher in the search results on both ArchiPro and search engines.
The SEO title is automatically pulled from the title of your product combined with its category, however, you can change this if you find alternative wording more attention-grabbing.
The SEO description is what people will see when they search for products in search engines. You have the option to Paste from product description and edit from there if you do not wish to write a unique description. It is important to add an engaging SEO description with relevant keywords related to your product's features and its category so that it ranks higher in search engines' results.
Add Search tags to help people find your product through a search on ArchiPro and search engines. These tags should be based on what you think people will search for to find your product, such as its key attributes, for example: type, colour, shape, size, location, or range. A search engine results preview will show as below.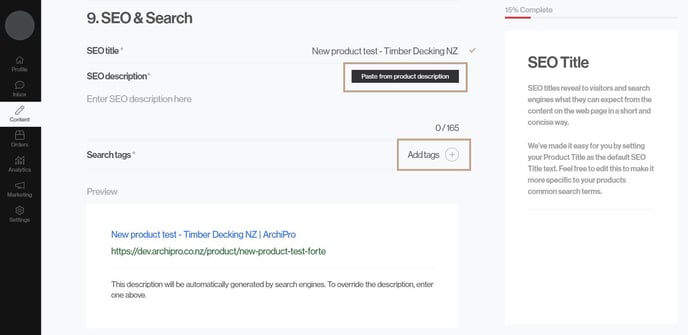 10. Link professionals
Link the professionals on ArchiPro who install your products to expand your network and further expose your brand and products to customers.

Submit your product for approval
When you have completed the previous steps, you may see a note at the bottom of the page asking you to complete required fields with missing information (mandatory fields shown with an *) before you submit your product for approval.
Click the drop-down menu and select Pending approval to finalise your product. Our team will be notified and make your product Live if it meets all of the requirements.