How to add shipping options for your products on Marketplace
Step 1
Head to your Company Settings tab on the left-hand navigation menu. Click Marketplace and click the arrow to the right of Shipping Profiles.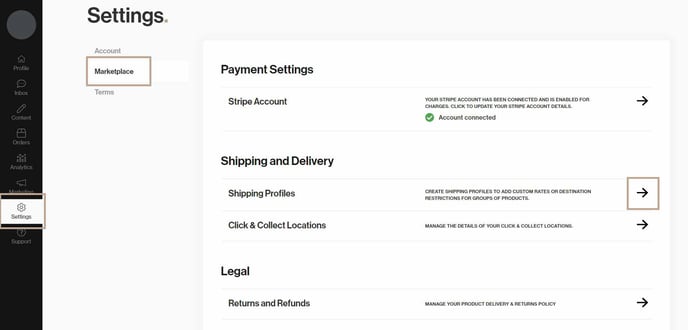 Step 2
As you can see, there is a default shipping profile selected, labelled Free Shipping. This option will only show to your customers on your product pages if you select this option as default. To add a new shipping profile, click Add New Profile. Add as many as you need to.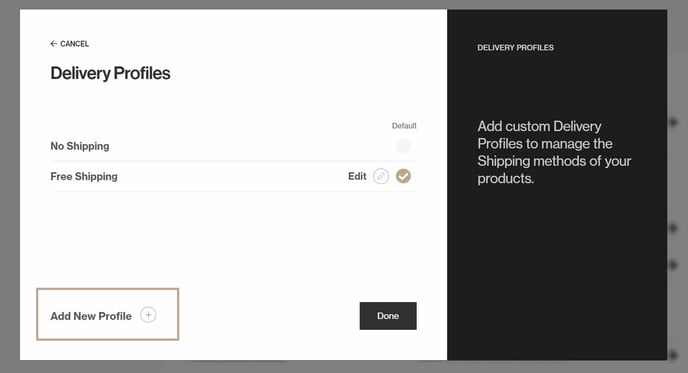 Step 3
Edit your Shipping Profile Title. It will usually be classified by the type of item, for example, large items or bulky items. Alternatively, it will be classified by the type of charge, for example, free shipping, or flat rate shipping for products that are smaller in size and don't require specific packaging or alternative transportation.
Here you can see the regions you would like to apply your shipping profile to.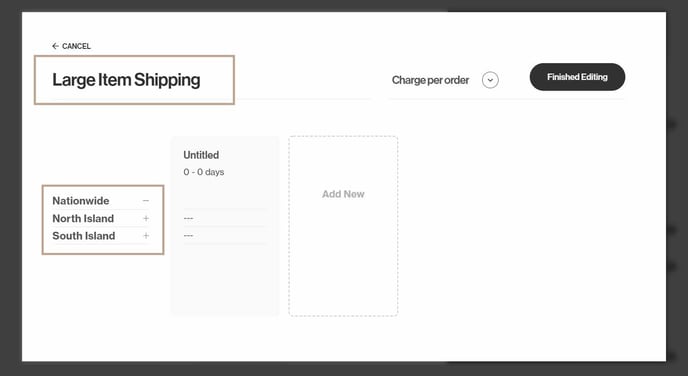 Step 4
Label your Shipping Rate Option, Days to Deliver, and the Delivery Cost Per Region. See Step 5 if you have various shipping costs per region.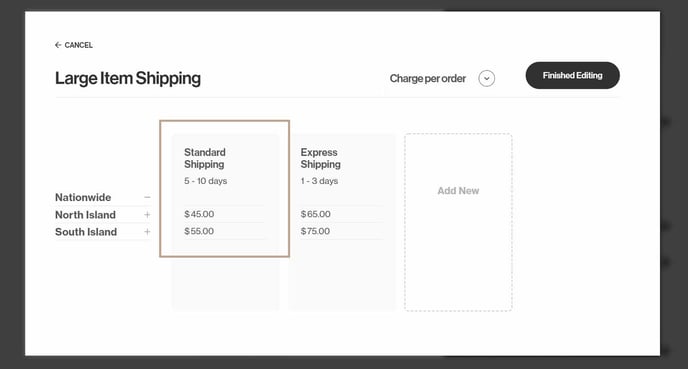 Step 5
Here you can click North Island and South Island to expand their corresponding regions, cities and towns. The price you entered previously in Step 4 will be automatically pulled through to each of these locations.
Each location's shipping cost can be changed, simply do this by clicking over the $ amount beside a location and typing in the amount.
Alternatively, if you do not ship to a specific location, you can hover over the right-hand side of the location $ amount and press the 'delete' bin that appears (as highlighted in the image below). Once you have deleted a $ amount for a location, three dots will appear as shown below (no Standard Shipping to Northland, and no Express Shipping to Northland and Coromandel).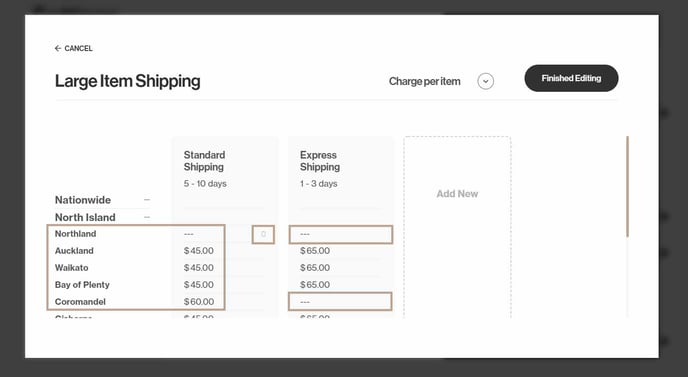 Step 6
Next, you will see a drop-down menu allowing you to select Charge per item or Charge per order. Select the one that best applies to the Shipping Profile.
When you are finished, simply click Finished Editing.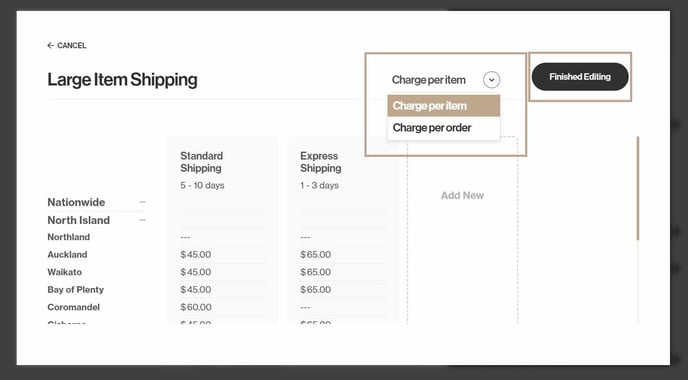 Step 7
Here you will be able to see all of the shipping profiles you have created. You can select which one appears as a default for all of your products. Press Done to confirm your shipping profiles.
To change the default shipping profile on individual products and their variants, see the Changing shipping rates on individual products article.