Learn how to upload images to your projects and utilising the photo editing tools
To add your project images, click on or drag your images into the grey box in the middle of the page. Project images should be 2000 x 2000 px at 72 - 300 dpi saved in jpg image format.
By clicking on the image you have uploaded, you then have access to a variety of image tools.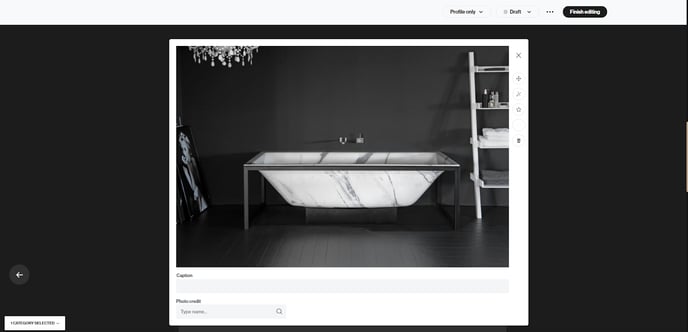 Along the right side of the image, the compass icon allows you to adjust the way the image sits in the provided space.
Filter an image
The magic wand icon allows you to apply a variety of filters to the image.
If you have licensed professional images from a photographer, there are often guidelines around amending these images which you can learn more about here.
Set the thumbnail image
Click on "Re-arrange photos" and drag the photo that you would like to be the thumbnail, to be the first photo. (click save)
Click on the top photo to "Edit"
Then click on the star symbol on the right. Once you click the star symbol, this will update the thumbnail.
Delete an image
Lastly, the rubbish bin icon removes the image.
Caption the image
The box below the image is for adding a caption to the image.
Credit the photographer
The Photo credit box allows you to search for a photographer or professional on ArchiPro whose images you need to credit.