Adding or editing your company About section
Learn more about using the About tab and updating your company information.
To edit your company's About section (a preview of the About section is visible on your Home page and Enquiry section) navigate to the About tab on your profile. Click on the greyed-out text which says 'Welcome to your new tab' to add an overview description of your company.

As with all text editors on ArchiPro, you have a variety of standard text editing tools available to you, which you can find along the top of the text box area.
To add/edit more tabs to your About section click the Add/Edit tabs button on the left-hand side of the page.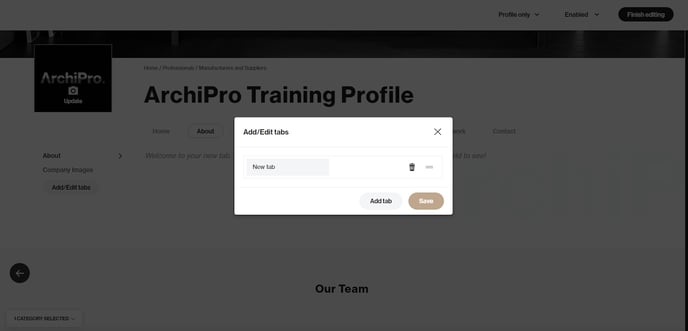 You can then add tabs with the Add tab button (and delete tabs with the 'rubbish bin' icon).
You can rearrange tabs with the 'dotted' icon next to the 'rubbish bin' by dragging the tabs around, and rename tabs by clicking on the name you wish to change. Once completed, click Save.
If you want to edit the information in the tabs you have created, click on the left underneath the About tab.