After your ad is run through ArchiPro's channels, you will receive an email that summarises what you have advertised, the format of the ad, the channel it was run through, and the date that it was published.
There are three types of Ad results emails:
1. Facebook Ad
2. Instagram Ad
3. Digital Publication Ad on ArchiPro
ArchiPro's Talk

Curated Collection
The Commercial Edit
Project of the Month
Below we have answered a few common questions:
1. What information does the email contain?
What you have advertised (for example a product, project, or article)
The format of the ad (for example a Digital Publication Ad)
The channel it was run through (for example the Curated Collection)
The date it was published
The link to see all of the results from your ad
2. When will I receive the Ad results emails?
After you have run an ad through one of ArchiPro's ad channels and the data has been gathered, you will receive the results email.
3. Who receives the email?
The Ad results reports are sent to the recipients listed under Analytics Performance Reports found in Business Manager via your left-hand profile navigation Accounts > Settings > Notifications.
If there are no Analytics email recipients configured, the Primary email address under your General settings will receive the email.
If you have not enabled Analytics for your profile, you will still receive these monthly reports but will not be able to see the complete breakdown of data on your profile's Analytics dashboard.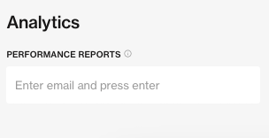 4. How can we change who receives the emails?
To view, add or change the email recipients, simply head to the Settings tab under Account, click Account, and then Notifications and add or remove any email addresses by typing in the Analytics Performance Reports section (pictured above).