This article explains how you can list the other professionals on ArchiPro that worked on the project you have uploaded.
Projects with product tags or projects that list the products used and professionals you worked with on the project, are exponentially more likely to be discovered across the platform.
Navigate to the 'Projects' section of your ArchiPro profile and find the project you wish to link other professionals to.
In the Project Editor, there is a 'Network' tab on the left hand side: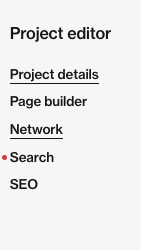 The second section allows you to link to Professionals and Suppliers used in the project (whereas the first section is all about the specific Products that were used).

If you'd like to remove any products or professionals, hovering over the tile will reveal a 'trash can' icon which you can click to delete.
These Professionals will be listed at the bottom of the Project, for example:
This project will also appear as a project the professional is tagged in on their profile, increasing discoverability for the project.
Any professional that you add within a project will also be added to your overall Network - the list of professionals you've worked with - on your profile.
If you know you've worked with a fellow ArchiPro Professional, but the project you collaborated on is not listed on ArchiPro, you can still make a Network connection with them on your ArchiPro profile. See how to do that here.