Learn how to update your Stripe bank account details and the periods when you receive your payouts.
In this article:
Updating your bank account
You can adjust the bank account that Stripe pays out to by simply logging into your account.
Step 1.
Log into your Stripe account here.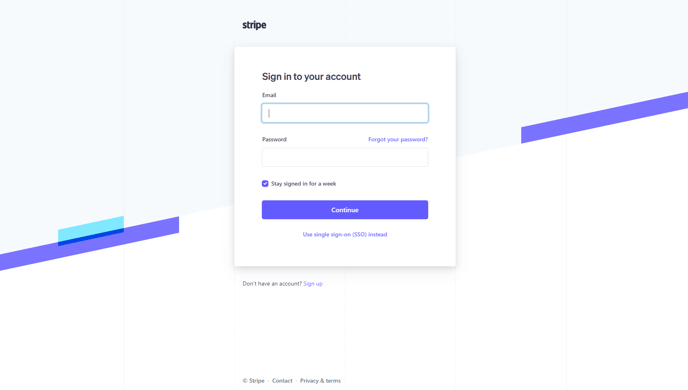 Step 2.
Update your Stripe bank account
Update your account details at any time by heading to the payout settings within your Stripe dashboard. Click Settings in the navigation sidebar and then Bank accounts and scheduling.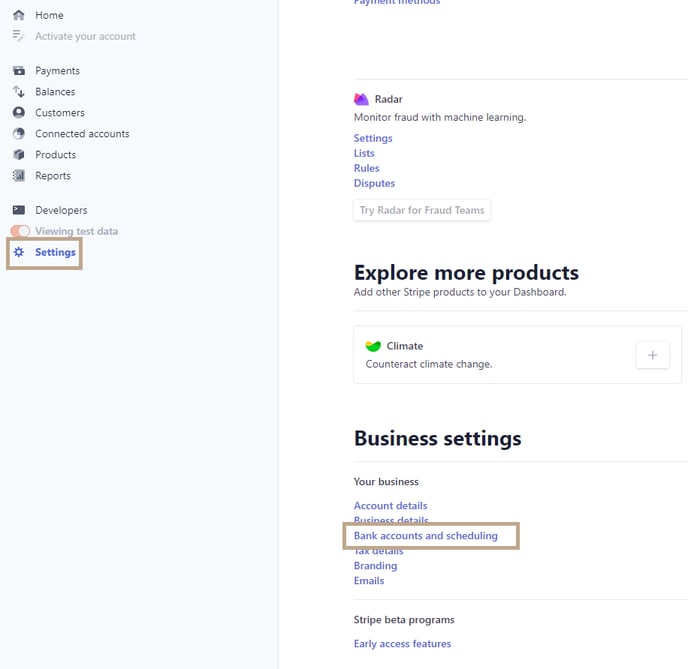 Within this tab, navigate to your desired bank account and click the Edit button next to it to modify your bank account information. You can also update your Payout schedule within this tab.

Payout periods
Payout schedule
The Stripe payout schedule is dependent on the time zone of your country, in which all payments and payouts are processed according to UTC time.
By default, Stripe automatically creates payouts from your available account balance based on the schedule specified in the Payout schedule within the Bank accounts and scheduling tab on your Stripe dashboard (as shown in step 2).
You can view your completed payouts within the Payments tab on your dashboard as shown below.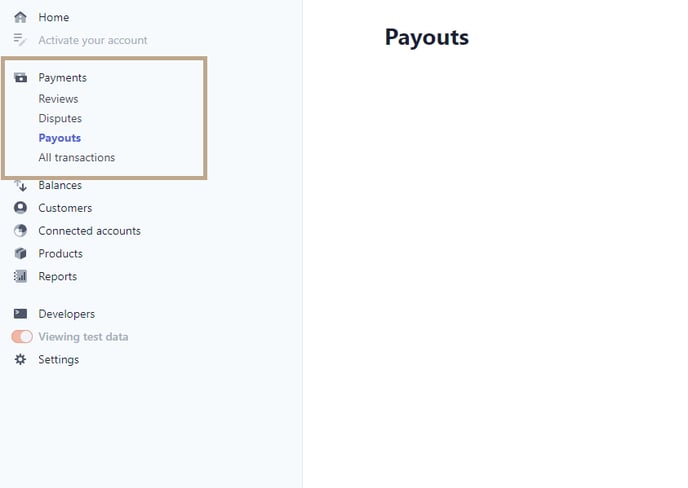 When a payment is first received via your ArchiPro profile, it's initially reflected as a pending balance on Stripe (less any Stripe fees). This balance becomes available to you according to your payout schedule. For instance, it takes seven calendar days from a payment being received to that payment being paid out to your allocated Stripe account on a seven calendar day schedule.
Most banks deposit payouts into your bank account as soon as they receive them, though some may take a few extra days to make them available.
Standard payout timing
The standard time for Stripe payouts in New Zealand is four business days.
Payouts are made daily from payments processed four business days prior. For example, payments received on a Monday will be paid out by Friday.
Instant payouts
With Instant Payouts, you can instantly send available funds from your Stripe account to a supported debit card or bank account. You can request Instant Payouts 24/7, including weekends and holidays, and funds typically appear in the associated bank account within 30 minutes.
Negative payouts
Each payout reflects your available account balance at the time it was created. In some cases, you may have a negative account balance. For example, if you receive 100 NZD in payments but refund 200 NZD of prior payments, your account balance would be -100 NZD. If you don't receive further payments to balance out the negative amount, Stripe creates a payout that debits your bank account.
Your bank account must support both credit and debit transactions so that Stripe can perform any required payouts.
Common questions
Payout taking too long to arrive
The first payout for every new Stripe account is typically paid out seven days after the first successful payment is received. This waiting period can be up to 14 days for businesses in certain industries. The delay allows Stripe to mitigate some of the risks inherent in providing credit services.
You can confirm your payout schedule and estimated payout timing in your dashboard.
Payout speed is too slow
Your payouts are being paid out following your payout schedule. Stripe can not speed those up. Update your Stripe bank account

to change your payout schedule.