Adding a banner image(s)
Learn how to add a banner to your profile.
In Business Manager, navigate to Profile >> Profile Details.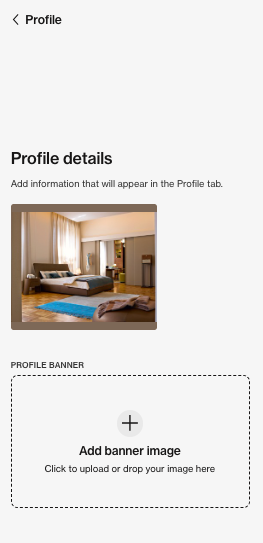 On the left hand menu bar, drag an image into the highlighted area or click Add banner image to add an image from your computer to set as the banner image.
Our content delivery network takes care of all proper optimising, sizing and cropping of images to fit into those frames while also keeping the original size on file. Max is 20mb file size. The best strategy is to upload the highest resolution image possible into each frame, as long as no larger than 20mb file size.
Banner images should be ideally 1920 x 819 px at 72 - 300 dpi saved in jpg image format.
You cannot edit banner images once uploaded (at the moment). However this is a new feature we are working on for future so you can adjust position, filters etc.
If you need to update your image, hover over the image in the left hand menu and click the 'camera' icon to replace the image with a new one.
To learn how to add a banner image to your 'About' section, please click here.