Here you can see a breakdown of your ArchiPro profile pages' performance on Google.
In this article: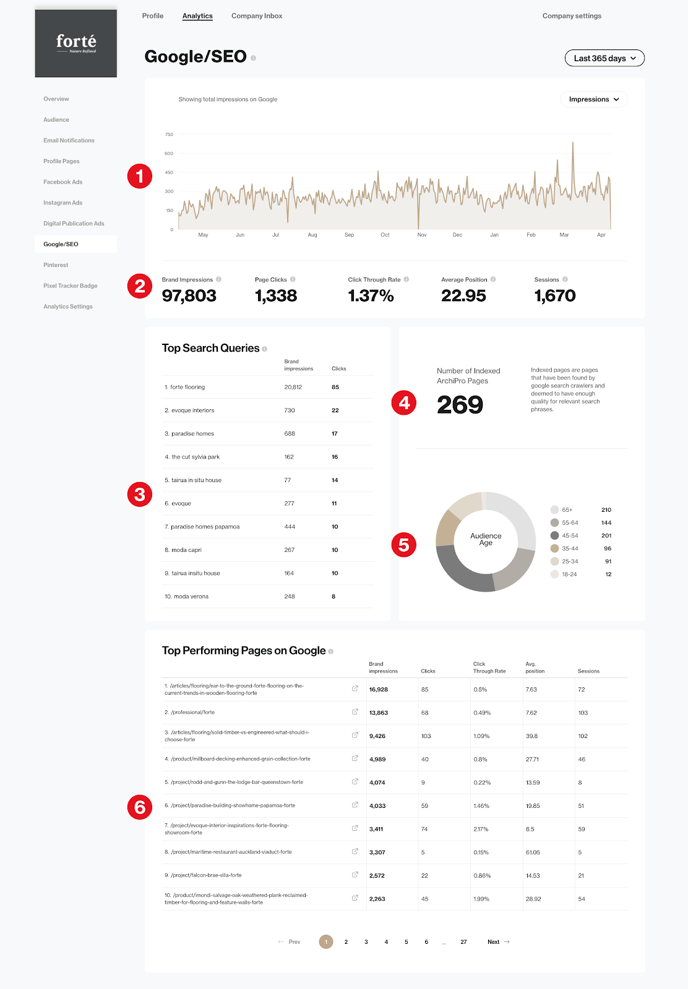 Google/SEO is the organic reach that your ArchiPro pages receive as a result of the indexed pages that have been crawled over by Google (that are of enough quality for relevant search phrases).
These relevant phrases are determined by looking at a user's frequently searched queries within Google.
1. Graphical timeline overview
Here you can find a graphical timeline of the impressions, page clicks and click-through rate (CTR) from Google.
2. Funnel overview
Brand impressions—This is when a user sees your ArchiPro profile pages appearing on Google search results.
Page clicks—The number of times users have clicked to view your page from Google search results.
Click-Through Rate (CTR)—The rate at which users have converted from Google to your profile pages.
Click-Through-Rate (CTR) = (((Page Views / Impressions) / 365) * Date Range))
Average position—Increasing this will rank you high up the page in Google search results—#1 being the top of the organic search results.
Sessions—Total number of sessions conducted by users. This is where a user spends time engaging with your pages on ArchiPro in one single session.
3. Top search queries
These results are the search queries that are conducted by users within Google that lead to impressions and clicks results for your ArchiPro pages.
These results are sorted by the total number of clicks from highest to lowest.
4. Indexed pages
The more pages of a high calibre you have on ArchiPro, the more Google will index these as possible search query results.
Calibre is determined by relevant information that users find helpful to answer their questions. This could include product information, pricing, keyword inclusion, and Q&As.
5. Audience age
This result is unique to your ArchiPro account and highlights the demographic age segments of the users engaging with your pages through Google search results
6. Top performing pages on Google
The top-performing pages from your ArchiPro profile are sorted by your brand impressions.
Each row highlights: the number of clicks that page received; the resulting click-through rate; and the average position for that page based on the search results Google produced.
Rounding out the data is the number of sessions each page has received. Sessions are determined by a user visiting and then revisiting more than 30 minutes later after a period of inactivity.