How to connect WooCommerce to your ArchiPro profile, and automatically sync your inventory and orders.
Connect with WooCommerce to automatically sync inventory to ArchiPro and update stock & price in real-time. Integrating with WooCommerce also allows orders to sync from ArchiPro so you can manage them from one place.
1. Connect your accounts on ArchiPro
To connect to your ArchiPro profile to your WooCommerce account, follow these steps:
Click the Profile icon in the top right menu
Click on your Professional name
Click Ecommerce in left menu
Click Integrations in left menu
Click Connect under WooCommerce
Enter WordPress URL and click Connect
Login and Approve

permissions
2. Go to WooCommerce to select which products to sync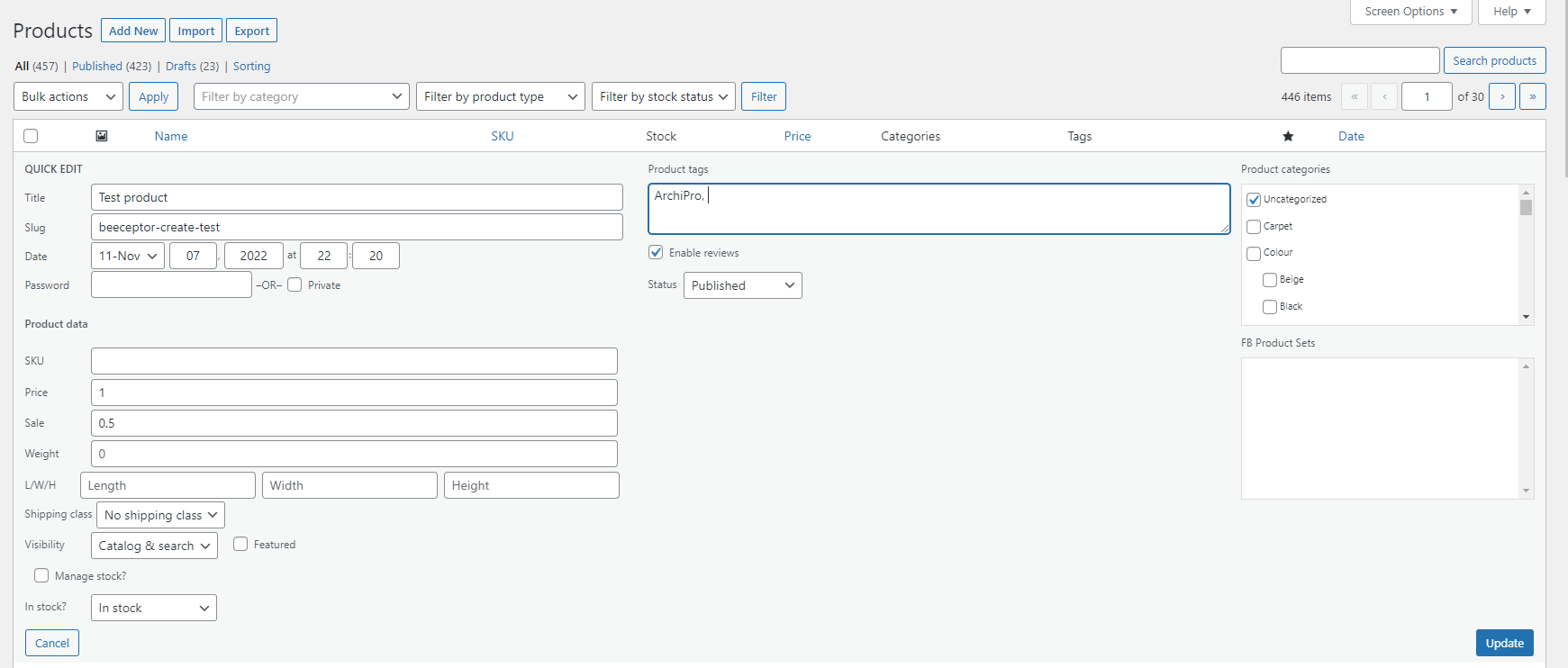 Once you have connected your accounts, you can select which products sync across on WooCommerce by using tags.
A tag called 'ArchiPro' will be automatically created on your WooCommerce site once you connect the integration. You can use this tag (or any existing tags on WooCommerce) to control which products sync to ArchiPro.
Once products have synced with ArchiPro, our content loading team must still go through each product and check information pulled through is accurate and complete missing fields.
As part of your initial content load to build your profile or ecommerce enablement (and annually on renewal), we include up to 200 products or 600 variants to be approved by our team via API sync. Please refer to our content loading rate card if you would like additional products made live on your profile and talk to your Client Director.
To learn more about adding or removing the tag on WooCommerce, see Syncing selected products from WooCommerce to ArchiPro.
3. Set up advanced settings (if applicable)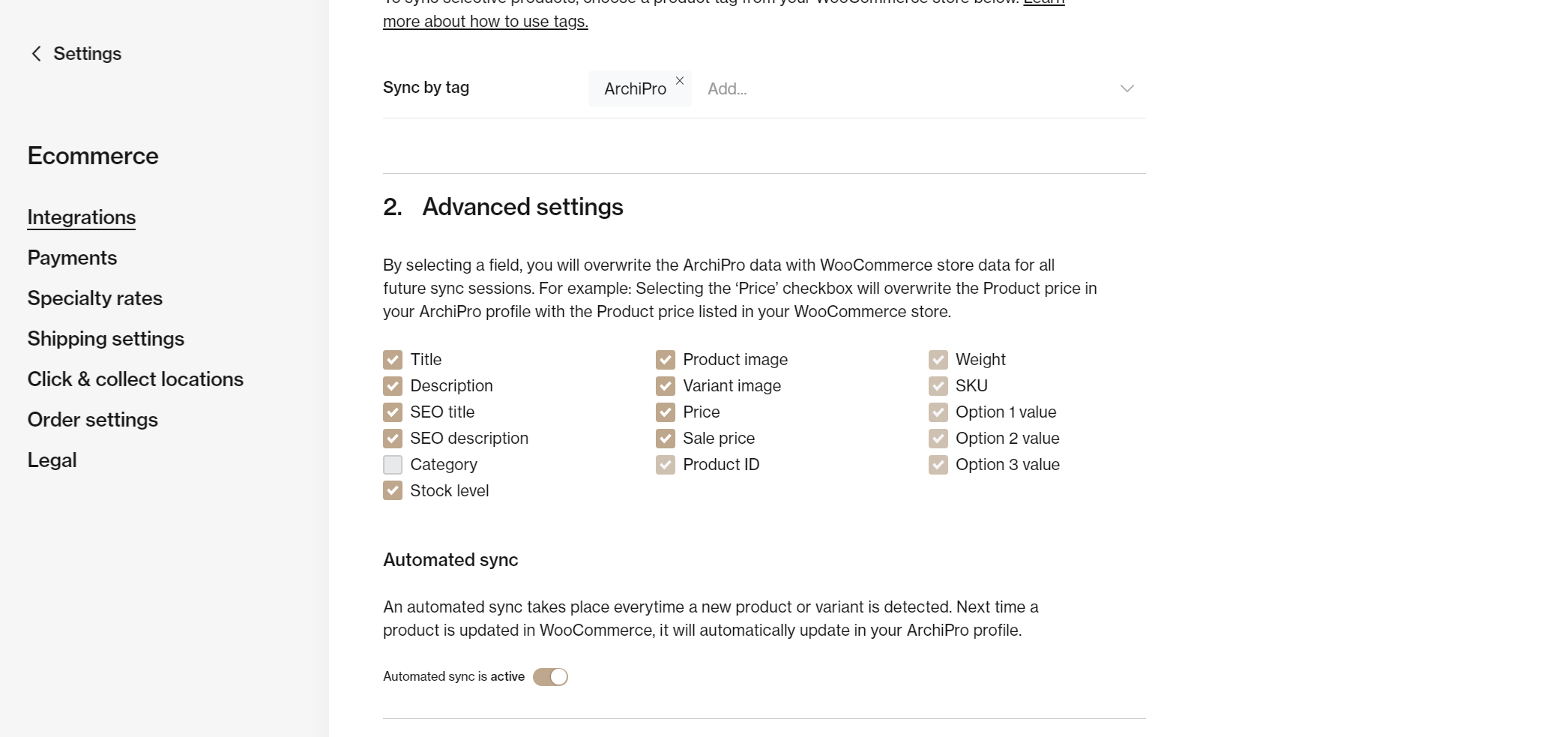 Advanced data settings
For new products syncing to ArchiPro, all product fields (other than Category) are selected to be overwritten by WooCommerce by default. If there are any fields you do not wish to sync across for new products, you can unselect these here.
For existing products in ArchiPro, there is a content lock enabled to protect these product fields from being overwritten. By default, the only fields that will sync will be price, sale price and stock.
Automated sync
When you connect to WooCommerce, automated sync will be activated by default.
Any new products added, or updates made to products in the collection, will automatically sync from WooCommerce to your ArchiPro profile.
You can choose to Deactivate automated sync at any time. After the initial sync, you will have the option to force sync updates on-demand.
Your WooCommerce account will remain your source-of-truth for all your product data. Any changes made in the ArchiPro product inventory will NOT sync to your WooCommerce products.
4. Select order settings

By default, once an order is confirmed in ArchiPro, it will automatically sync to your WooCommerce Orders tab. This is where you can manage and fulfill the order.
If you do not wish for ArchiPro order data to sync to WooCommerce, select 'Keep order data in ArchiPro'.
6. Begin syncing
When you are ready to set up the integration, click Begin syncing.
This initial sync will set up an ongoing connection between your WooCommerce account and the ArchiPro profile.
Upon sync, all new products will be set to Pending approval in your ArchiPro profile.
If automated sync is active, any future updates to products in the app will appear in ArchiPro after this point.
If you click cancel while a sync is in progress, any pending products will not be imported.
That's it! Your integration with WooCommerce is now active.
To view your products in ArchiPro, visit your Business Manager > Content > Products.
---
Troubleshooting
Disconnecting your ArchiPro profile
If you want to disconnect your ArchiPro profile from the app, click disconnect on the Account tab. Disconnecting your profile will stop any product updates from syncing, and will set all products imported from WooCommerce to 'Draft' on ArchiPro.