Utilise all the new features we have introduced to your company Inbox.
We've released some exciting new features to your company Inbox.
In this article you will find:
How a customer makes an enquiry about your business, product, or project:
Once a user is on your profile or product listing, there are a few ways they can make an enquiry with you:
Via the on-page Enquiry Form found on your company profile, your product listings and project pages.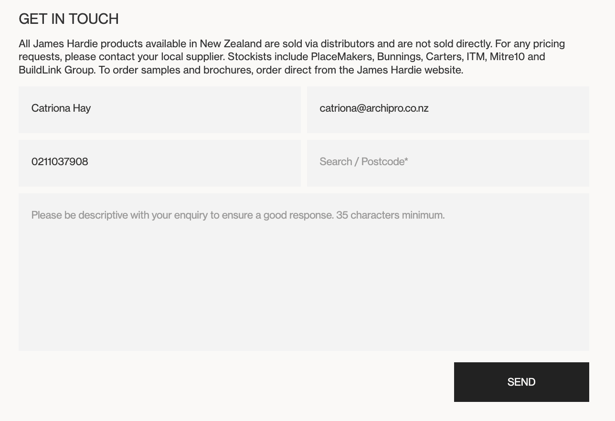 2. Via the 'Request Price/Brochure' button which appears across every section of your profile and prompts the same enquiry form.

3. Via the Enquire button on your Contact section of your profile which prompts the same enquiry pop-up form to appear.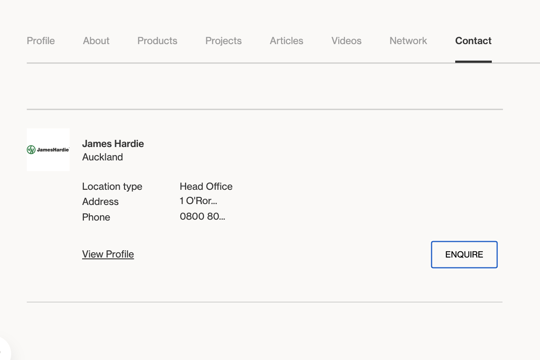 Not only may the customer enquire with you, but they could choose to Visit your Website to learn more about your business. If a customer chooses to follow the path of enquiring through ArchiPro instead of heading to your website, they have shown a strong interest in your product/services. Their enquiry requires close attention to show you appreciate their time and effort.
How to view your customer enquiries:
Head to your Inbox tab (found left-hand navigation menu in Business Manager).

Here you will see all of your customer enquiries, along with a new message indication beside each new, unopened message.
You can type your reply in the Write a reply box on the right hand side and the customer will then be notified via email that you have responded to their enquiry message.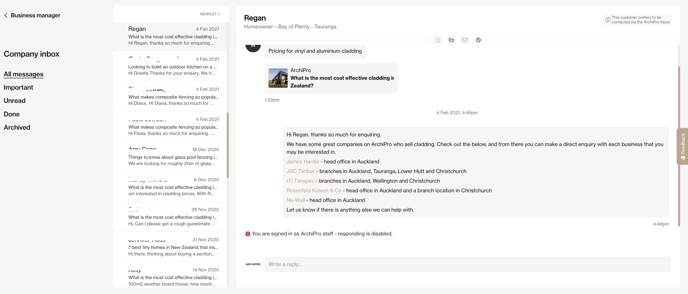 Viewing contact details of a customer that has enquired:
When a customer opts in to provide their contact details upon making an enquiry, these details will be revealed at the top-right corner of your conversation with the customer.

We would still advise that you respond within your company inbox so that your reply goes straight into the user's ArchiPro Inbox and they can track their enquiries all in one place. We know how clogged email addresses can become so being able to track all enquiries relating to their project is very useful for many users planning a project.
However, this gives you the ability to call the user if you require further information or share their email address if someone else from the business is best placed to get in touch.
How to format your messages:
We have added various options for you to customise your responses to customer enquiries. As shown in the image below, you can add Normal text, Heading text, Bolded words, Underlined words, Bullet points, and Linked text. If you would like to attach documents, imagery, or any other information that your enquirer has requested, you can simply Attach a file from your computer by clicking the paper clip icon on the right.

How to set the status of your messages 'Mark as Important', 'Mark as Done', 'Mark as Unread' or 'Archive':
With a growing number of customer enquiries, it can be handy to keep on top of your inbox and track when you've actioned an enquiry or would like to mark messages as important to remind you to follow-up.
When you hover over a message in the menu, you can click on one of four icons to Mark as important, Archive, Mark as unread or Mark as done.
How to filter your messages in Inbox:
Simply click the drop-down arrow beside the heading All messages where you can select the type of messages you want to view. These include All messages, Marked as important, Unread, Done and Archived.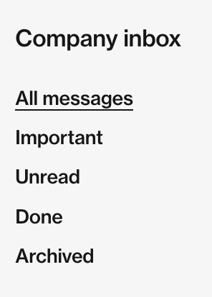 Messages marked as 'Done' from both you and the customer:
When a customer makes an enquiry, you will receive an email reminder, and when you reply to the customer's enquiry, they also receive a preview of your message, along with the option to Reply Now or Mark as Done. A customer can Mark as Done in the same way that you can, within their ArchiPro Inbox.
When you or the customer marks a conversation as done, the other person will not be notified. The purpose of this feature is to instead stop the reminder emails coming through if either of you no longer need to be reminded about the conversation. This will not delete or archive the conversation.
Best practice for responding to enquiries:
Users of the ArchiPro platform are at many stages of their project.
Some may be months away from being ready to speak with a product supplier or professional and simply require a price to understand how this fits within their project budget. Others may require additional product information like specs or drawings or are ready to engage over the phone.
We've now given users (your potential customers) the ability to share their contact details with you - giving them the flexibility on how they want to use the platform.
Whether they are simply researching or ready to buy, if someone has taken the time to fill in a contact form, we ask that every user gets a response in a timely manner. The average response rate from ArchiPro users is much higher if they receive a response to their original enquiry within 24-48 hours.
It reflects badly on the ArchiPro brand and your business if a user never receives a response from you to their enquiry.
For an effective response, we'd highly recommend that you include the following at a minimum:
Thanks for the enquiry
Response to their question
Quote attached if requested
Supply contact details or a website URL should they require further information
Your business's unique selling point—why should they choose you? (Many users may be enquiring with multiple product suppliers to compare so make sure you get across why they should use you).
A great example of how you can respond to a generic customer enquiry is below:
Hi <Customer Name>,
Thanks so much for your enquiry.
Here's a link to the relevant product page on my website which includes pricing and specs: (insert relevant URL link).
You are also welcome to visit us in your local showroom—view our locations here: (insert relevant URL link to your contact/locations website page).
We know that investing in high-quality outdoor furniture means that it can withstand the elements here in New Zealand, so we make it easy by using state-of-the-art materials in all of the outdoor furniture we sell.
We look forward to helping you with your project.